Introducing the Water Soluble Flower Embroidery Template!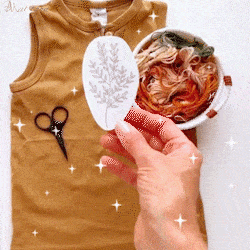 This little gem will revolutionize your DIY embroidery projects. Say goodbye to those pesky transfer patterns and hello to easy breezy stitching. Stick and Stitch patches are the name of the game when it comes to this template. No need to fuss with patterns any longer, just tear off the backing and stick it to your project area. Then, start stitching! When you're finished, soak or rinse the paper away with warm water, gently rub away any remaining bits, and let it dry. Voila! You're left with a gorgeous, personalized embroidery piece.

The Water Soluble Floral Embroidery Template offers endless possibilities for creativity. Use your own color palette and favorite threads to make your project truly one-of-a-kind. And, with the option to sew on non-stretchy fabrics, you'll have even more freedom to create your masterpiece. Be sure to knot your thread on the protected side of your fabric to prevent any unraveling during the washing process.

Pro tip: give your fabric a quick wash and dry before stitching to ensure the best results. And, for the highest quality thread that won't bleed onto your fabric, we recommend using DMC embroidery thread.

Please note that these templates do not include assembly guides, materials, color guides, or instructions. We want your creativity to run wild and for you to have the freedom to create your own unique masterpiece. So, get to stitching and let your imagination run wild with the Water Soluble Floral Embroidery Template!
2. In the pop-up window, click on the location on the image below.
3. Choose your bank country.
4. Now you can use credit cards to pay.
5.Last Tip:
Do you want to use this credit card to create a PayPal account?
According to your needs, choose yes or no.

6.Successful payment.