If you prefer piecing curves, cut the background and the circles with the same ruler.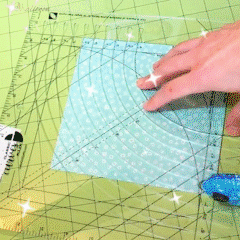 Every quilter needs it to create beautiful curved designs for borders, blocks, sashes and more. A ruler will dramatically expand your possibilities and make your quilting unique and intricate.
It's simple to move them where needed, and the weight flattens the pattern and fabric; no worries about loose hold on the fabric.
Mark the fabric through the holes in the template to mark the center of the curved sides, making splicing a breeze.
A handy oval template for all your crafting needs, especially quilting.
This quilt is so full of summer energy that it will keep you cozy on the coldest of nights.
2. In the pop-up window, click on the location on the image below.
3. Choose your bank country.
4. Now you can use credit cards to pay.
5.Last Tip:
Do you want to use this credit card to create a PayPal account?
According to your needs, choose yes or no.

6.Successful payment.