The Curve Runner Ruler is a ruler that measures any curved line!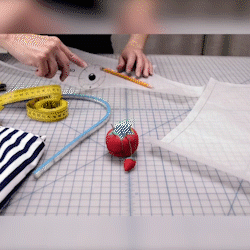 The clear acrylic wheel allows you to see through the ruler, never leaving your line out of site. The Curve Runner is particularly useful for measuring curved lines on patterns or other drafted designs.
You can use it in many different way - Sewing, Woodworking, Architectural, Educational……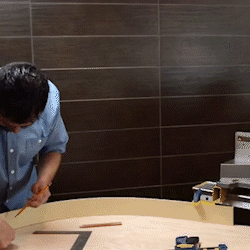 The most practical way to accurately measure a curved line on a pattern piece is to measure where the actual stitching will be. Mark the seam allowances with the Curve Runner Ruler and make a note where the stitching will intersect other pattern pieces.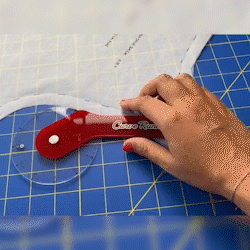 Start with the 0 down on the stitch line and roll. Do not include in your measuring the intersected seam allowances because they will be on the inside of your finished garment.
When two curved lines are made to attach to each other such as set in sleeves and neck finishes to necklines, be sure to measure and compare their lengths with a Curve Runner. Some sleeves come with extra ease in the sleeve cap. Sleeve cap ease is the difference between the actual sleeve (at the stitch line) and the sleeve opening (at the stitch line).
Knowing if there is a lot or a little ease is helpful when constructing the shirt. The length of knit neckbands can also be determined when you measure the neck opening for a t-shirt. Usually, the knit neckband is 20% smaller than the actual opening. Waistbands to skirts are also great to measure to see if they will fit the skirt opening especially after the pattern pieces have been adjusted for fit or partially sewn.
It is precision cut and made from cast acrylic. It is put together by hand and calibrated for smooth rolling. It also comes with a custom silicone handle for comfort.

Uses:
• Great for measuring sleeve head and armhole ease.
• Measuring design details such as necklines, trim, ruffles, binding, etc.
• Upholstery piping
• Smaller wheels (8" /20cm) are agile for tighter curves
• Larger wheels (12" /30cm) are great for going several rotations while measuring a larger area.
• Compare two adjoining curves in a pattern that is eased into the other, i.e.: sleeve heads to armscye, waist to waistband, sleeve elbow to front sleeve, neckline to neck binding, collar to garment body, etc.
• Mathematics tool
• Drafting tool and more...
Curve Runners come in 2 sizes: standard 8- and 12-inch circumference.