This tool is designed with a hand-pressed lever that allows you to attach pearls effortlessly. Its holders also have a strong bite on them that fastens beads and rivets tightly for durable results. And the best thing is it doesn't require electricity or glue — saving you money in the long run!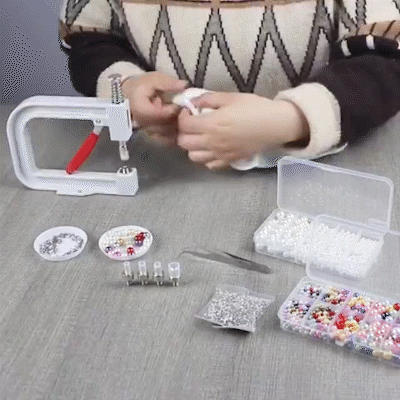 Innovative development power-Skirts or trousers, adding pearl embellishment can also add to the dress
Great creation-Of course there is our shoulder bag, the beauty is just right,The shoulder bag is more fashionable because of the inlay change
Customized luxury-Even the girl's hairpins, headbands, bow ties, and other decorative objects, adding beads to highlight your creativity
DIY DESIGN - Squeezes beads & rivets effortlessly! This device is engineered with a hand-pressed lever that can be operated easily just like using a typical stapler.
DURABLE RESULTS - Better than glue sticks! The stainless steel's "superior hardness" allows the holders to fasten pearls and rivets tightly for durable embellishments.
PRECISE POSITIONING - Made with convenience in mind! Its holders are also aligned vertically to make beading a breeze and accurate.
WIDE COMPATIBILITY - You can also switch through 5 various holders for different sizes of pearls — making it ideal for beading clothes, accessories, hats, and many more!
PRACTICAL - No electricity or glue required, just a little effort from you — saving you money from going to expensive sewers!
HOW TO USE:
Fix the holder size of your choice.
Put the rivet on the bottom holder and the bead on the top one.
Place the cloth on top of the rivet.
Squeeze the lever to attach bead and rivet into the cloth.
SPECIFICATIONS:
Material: Stainless Steel
Bead Holder Sizes (Diameter): 4 / 5 / 6 / 8 / 10 mm
Weight: 520 g / 18.3 oz.)
PACKAGE INCLUDES:
1 x Manual Beaded Machine
5 x Nailed Head (4 / 5 / 6 / 8 / 10mm)
1 x Box pearls (550Pcs)
1000 x Hand nails
2. In the pop-up window, click on the location on the image below.
3. Choose your bank country.
4. Now you can use credit cards to pay.
5.Last Tip:
Do you want to use this credit card to create a PayPal account?
According to your needs, choose yes or no.

6.Successful payment.