Cute Fortune Pig Plushie Template
🐖 This DIY sewing template helps you make an adorable Lucky Pig plush toy that embodies fortune and joy.
🐖 Additionally, the accompanying instructions provide a step-by-step guide to help you complete the project with ease.
🐖 Pigs are symbols of good fortune, wealth, and abundance. It also makes a thoughtful and meaningful gift for loved ones on special occasions such as birthdays, weddings, and holidays.
Keep Memories Alive
💕 You also can make this using the clothing of a loved one who passed to help keep their memory alive. Can also be made from a child's clothing to preserve their childhood memories.
Are you looking for a creative way to decorate your home or office? Look no further than this Lucky Pig plush toy DIY sewing template!
This template is perfect for anyone who wants to create a unique and adorable decoration that embodies good luck and happiness.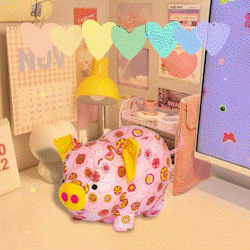 Difficulty: ⭐⭐ (Suitable for Beginners)
Time Required: 1-2 hours

Customer Reviews
''Super cute pattern. I bought the largest size and she's so chonky!!''- Deana Lara Feb 15, 2023 ⭐⭐⭐⭐⭐

''Absolutely love this pattern. The ears of the pig was what sold me, and they came out perfectly. Instructions are very straightforward and well presented''-Evelyn Usher Feb 19, 2023 ⭐⭐⭐⭐⭐
''The instructions are amazing and easy to understand. I enjoyed making this cute pig. I definitely recommend this pattern to anyone how wants to make an adorable pig.''-Kathy castro Mar 15, 2023 ⭐⭐⭐⭐⭐
''Roundest pig plush i have ever seen & have ever made. 10/10, shaped like a friend. Made one for my friend's niece for gifts and she absolutely loved it! Really easy to follow pattern and instructions too.''- Koko Mar 21, 2023 ⭐⭐⭐⭐⭐
Discount and Size
Our templates are available in four sizes and can be used to make

different sizes.

If you need other sizes, you can contact us on facebook for customization.
S: 5 inch
M: 8 inch
L: 10 inch (Best size for desk or shelf)
XL:12 inch (Best size for cuddling)
More

cost-effective combination-

Limited-time Offer!
2 Sizes-8+10 Save 40%
2 Sizes-10+12 Save 43%
3 Sizes-5+8+10 (Recommend)Save 45%
🛒All Sizes-5+8+10+12 (Hot Sale+Recommend)Save 50%
About Package
List of required materials and tools for creating the pig plush toy (the materials used are easy to get)
Step-by-step guide on how to create your own pig plush toy using the sewing template
Each step is illustrated with pictures
(Notice:Please keep the materials dry and clean to avoid contamination. Use scissors carefully to avoid injury)
Brand culture story:
Our brand originated from a small sewing studio. The founder had a passion for hand sewing and after years of hard work and continuous innovation, we have developed a series of sewing templates suitable for different levels of proficiency to reduce the sewing time. We also have 200+ professional sewing masters who are constantly innovating, hoping to create products that make people like and satisfied
We firmly believe that handicrafts are a legacy and promotion of traditional culture. Through our products and services, we hope to let more people understand and fall in love with handicrafts, so that this traditional and beautiful culture can continue.
Reputation guarantee:
We have always adhered to the principles of honesty, professionalism, and responsibility, and provide customers with high-quality products and services. Our products have undergone strict quality checks and testing to ensure that they have been rigorously screened before being delivered to customers.
We have a high-quality customer service team that can provide customers with comprehensive pre-sales, in-sales, and after-sales services to ensure that customers can enjoy our products and services satisfactorily.
Our reputation is built on years of good reputation and customer trust, and we will continue to work hard to provide customers with better products and services.
Clear Purchase Process and Refund Policy:
At our online store, we strive to provide our customers with a seamless and hassle-free shopping experience.
Once you have selected the item(s) you wish to purchase, simply proceed to the checkout page where you will be prompted to enter your shipping and payment information. We accept a variety of payment methods, including credit cards, PayPal, and more, to ensure that you can choose the one that works best for you.
We understand that sometimes things don't go as planned and you may need to return an item. Our refund policy is designed to provide you with peace of mind when shopping with us.
(All you need to do is place your order now and follow our steps. You can get the cute Lucky Pig Plush Toy. You will receive your goods in about 7 days)