Quick and easy make Log Cabins Quilt with this.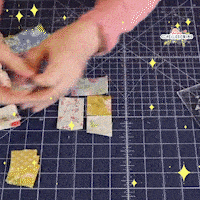 The Log Cabin Trim Tool TemplateS feature exclusive marking to create perfect finished Log Cabin; Half Log Cabin; or Courthouse Steps blocks Steps blocks up to 10in.
In this case, there are two sets of markings - one set for 1in finished logs and additional markings for 1/2in finished logs.
Make log cabin blocks with all the same width of strips, or combine the two widths for limitless design potential!
After adding each round of logs, place the appropriate centering square on the ruler over the center square of the block and trim.
2. In the pop-up window, click on the location on the image below.
3. Choose your bank country.
4. Now you can use credit cards to pay.
5.Last Tip:
Do you want to use this credit card to create a PayPal account?
According to your needs, choose yes or no.

6.Successful payment.