Cute Hugging Monkey Cloth Doll Plushie
Would you want to take her home?
These Hugging Monkey are the easiest fellows to make.
You can string them like garlands, hang them up or give them to children to play with.
This project is easy to follow, as long as you have some basic sewing skills.
Buyers Show
"Easy to follow, and I have zero experience in this type of craft! Well made pattern! "- Hailey Nees Oct.16, 2022
"The pattern laid out all the steps super clearly! This is my first plush toy I've made and it turned out pretty well! "- Kathryn G Laudeman Mar.15,2023
''Pattern was easy to use, instructions were clear and concise with helpful markings for placing eyes and ears. I'm a casual crafter and have very little experience with sewing 3D items, but I absolutely adore how this turned out! I chose to hand embroider the eyes and nose instead of using fabric.''
- hannahens Jul 12, 2022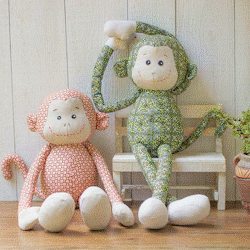 About Size
Our templates are available in four sizes and can be used to make

different sizes.

If you need other sizes, you can contact us on facebook for customization.
S: 8 inch
M: 12 inch
L: 15 inch
XL:18 inch
More

cost-effective combination
2 Sizes-8+12 (Recommend)
3 Sizes-8+12+15 (Recommend)
🛒All Sizes-8+12+15+18 (Hot Sale+Recommend)
【We also include detailed sewing tutorials with your product after purchase】
2. In the pop-up window, click on the location on the image below.
3. Choose your bank country.
4. Now you can use credit cards to pay.
5.Last Tip:
Do you want to use this credit card to create a PayPal account?
According to your needs, choose yes or no.

6.Successful payment.