Rainbow Unicorn Plush Toy
Pattern
Get your own unicorn plush doll today and experience the magic for yourself!
The plush exterior is super comfortable to hold, snuggle with, and cuddle up next to while you watch your favorite movie.
Our unicorn plush doll is an excellent choice for birthday gifts, baby showers, or any special occasion. It's also a fantastic way to add a touch of whimsy to any room in your home, whether as a decorative accent or as a cozy pillow to rest your head on.
This beautifully crafted doll features a colorful mane and tail, glittery horn, and adorable embroidered face that will capture your heart.
The Rainbow Unicorn Plush Toy is the perfect companion for any unicorn lover. Made with high-quality, soft plush material, this unicorn toy is designed to provide comfort and joy for children and adults alike. Measuring at 15 inches in length, this plush toy is the perfect size for cuddling and hugging.
Customer reviews from previous buyers
''this pattern was not too difficult to complete. i also used a delicate gold knit for the hooves, wings and horn. i named this unicorn "Tulip" and gifted her to my niece for her 4th birthday, it was a hit!''-Priscilla Diaz Mar.12 2023
''Very clear pattern and the final product was accurate and as predicted!''-Melissa Mar.19 2023
''This rainbow unicorn pattern was perfect for my daughter''-Genevieve Mar.25 2023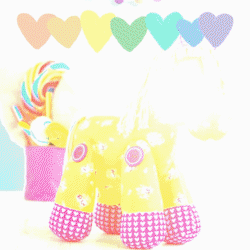 About Sizes
Our templates are available in four sizes and can be used to make

different sizes.

If you need other sizes, you can contact us on facebook for customization.
S: 8 inch
M: 10 inch
L: 12 inch
XL:15 inch -perfect size for cuddling
More

cost-effective combination
3 Sizes-8+10+12 (Recommend)Save 36%
🛒All Sizes-8+10+12+15 (Hot Sale+Recommend)Save 39%
About Package
List of required materials and tools for creating the unicorn plush toy
Step-by-step guide on how to create your own unicorn plush toy using the sewing template
Each step is illustrated with pictures
(All you need to do is place your order now and take a few minutes to follow our steps)
(You can get a cute rainbow unicorn. You will receive your goods in about 7 days)