A must-have Watering Can Sewing Pattern
🧵 Easy to sew! This watering can sewing pattern makes all your sewing tasks a breeze, order now!
🧵 2023's best crafting tool! This watering can sewing pattern is a must-have tool for this year.
Don't miss out!
Difficulty: ⭐⭐ (Suitable for Beginners)
Time Required: 1 hour
Function
As a storage box, it can conveniently store your sewing tools. You can put needles, thread, scissors, fabric, and other sewing supplies inside, keeping them neat and organized for easy access.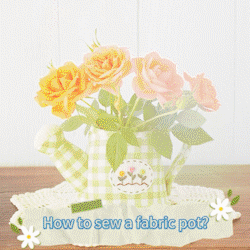 As a pen holder for kids, it can help children keep their desks tidy and organized, making their study and writing more efficient. Kids can put pens, pencils, markers, and other stationery inside, not only for easy access but also to cultivate their organizational skills.
As a flower vase, you can place it in the living room or bedroom as decoration. You can insert fresh flowers or plants inside, increasing the oxygen content in the room, making the air fresher. At the same time, the vase itself is a beautiful ornament, adding a sense of nature and vitality to your home.
Check out our reviews!
It's a rare template. I made one for my daughter as a pencil holder and for myself as a vase for a flower arrangement. It looks great in the living room.-Amanda Farrar Apr 28, 2023 ⭐⭐⭐⭐⭐
Quick and easy. Love that she put tutorial in the package.-Katelin Nearhoof Apr 26, 2023 ⭐⭐⭐⭐⭐
This pattern came out absolutely stunning. Comes with a print instruction. i can not stress enough how well and clearly written this pattern is.-ladyscorp83 Apr 23, 2023 ⭐⭐⭐⭐⭐
Discount and Size
Our templates are available in three sizes and can be used to make

different sizes.

If you need other sizes, you can contact us on facebook for customization.
S: 5 inch (Best size for container)
M: 7 inch (Best size for Pen Holder)
L: 10 inch (Best size for Flower Arrangement)
More

cost-effective combination-

Limited-time Offer!
🛒All Sizes-5+7+10 (Hot Sale+Recommend)Save 50%
About Package
List of required materials and tools (the materials used are easy to get)
Step-by-step guide on how to create your own Fabric Watering Can using the sewing template
Each step is illustrated with pictures
(Notice:Please keep the materials dry and clean to avoid contamination. Use scissors carefully to avoid injury)
Brand culture story:
Our brand originated from a small sewing studio. The founder had a passion for hand sewing and after years of hard work and continuous innovation, we have developed a series of sewing templates suitable for different levels of proficiency to reduce the sewing time. We also have 200+ professional sewing masters who are constantly innovating, hoping to create products that make people like and satisfied
We firmly believe that handicrafts are a legacy and promotion of traditional culture. Through our products and services, we hope to let more people understand and fall in love with handicrafts, so that this traditional and beautiful culture can continue.
Reputation guarantee:
We have always adhered to the principles of honesty, professionalism, and responsibility, and provide customers with high-quality products and services. Our products have undergone strict quality checks and testing to ensure that they have been rigorously screened before being delivered to customers.
We have a high-quality customer service team that can provide customers with comprehensive pre-sales, in-sales, and after-sales services to ensure that customers can enjoy our products and services satisfactorily.
Our reputation is built on years of good reputation and customer trust, and we will continue to work hard to provide customers with better products and services.
Clear Purchase Process and Refund Policy:
At our online store, we strive to provide our customers with a seamless and hassle-free shopping experience.
Once you have selected the item(s) you wish to purchase, simply proceed to the checkout page where you will be prompted to enter your shipping and payment information. We accept a variety of payment methods, including credit cards, PayPal, and more, to ensure that you can choose the one that works best for you.
We understand that sometimes things don't go as planned and you may need to return an item. Our refund policy is designed to provide you with peace of mind when shopping with us.
(All you need to do is place your order now and follow our steps. You can get the cute Lucky Pig Plush Toy. You will receive your goods in about 7 days)