🛍️

Discover the Ultimate Sewing Haven
Introducing our Exclusive Sewing Studio Starter Kit!

🧵
This unique and functional design allows you to keep your pencils, markers, scissors, and other small sewing tools neatly organized and easily accessible. Say goodbye to rummaging through messy drawers and hello to a clutter-free sewing experience! 🧵✏️️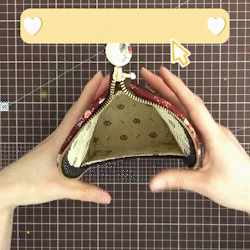 Stand Tall and Stay Organized:
The sturdy base ensures that your tools remain upright, making it effortless to find the right tool whenever you need it. Embrace the convenience and efficiency of a well-organized sewing station with our Standing Pencil Case Sewing Template. 📐🧵
Portable and Travel-Friendly:
Whether you're attending sewing classes, workshops, or simply sewing on the go, our Standing Pencil Case Sewing Template is your perfect companion. The compact size and lightweight design make it easy to carry in your sewing bag or tote. 💫🏡
Crafted with Quality and Durability in Mind:
We understand the importance of long-lasting tools in your sewing journey. That's why our Pencil Case Sewing Template is meticulously crafted using premium materials. Invest in a sewing companion that will stand the test of time. 🧵
📏 Size Options:
Small (5in): Ideal for those who prefer a compact and portable option. Perfect for carrying a select few essential sewing tools. This size is great for on-the-go sewing or for those with limited workspace.
Medium (8in): The versatile choice for most sewing enthusiasts. With ample space to store a variety of pencils, markers, and small sewing accessories, it strikes the perfect balance between portability and functionality.
Large (10in): Designed for serious sewists who have a vast collection of sewing tools. This size offers maximum storage capacity, accommodating an extensive range of pencils, scissors, and other essentials. Perfect for those who love to be fully equipped and organized.
How to Choose: Consider the number and size of your sewing tools, as well as your preferred level of portability and workspace. Assess your specific needs and determine which size will best accommodate your collection. Remember, it's always better to have a little extra space than to run out of room!
Order your Standing Pencil Case Sewing Template today and experience the joy of sewing in style! 📦🧵
Satisfaction Guaranteed:We're confident that our Standing Pencil Case Sewing Template will exceed your expectations. However, if for any reason you're not satisfied with your purchase, we offer a hassle-free return and refund policy. Your satisfaction is our top priority, and we strive to provide you with the best sewing experience possible. Join thousands of satisfied customers and elevate your sewing game today! 💯🧵

🔄 Hassle-Free Returns: We believe in the quality of our products and strive for customer satisfaction. If, for any reason, you are not completely happy with your Picnic Storage Tote Bag Templates, we offer a hassle-free return process. Simply reach out to our dedicated customer support team, and they will guide you through the return procedure.