The Tool for making Pinwheels Easy! No more templates, tracing, slipping or frustration!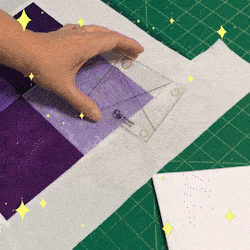 This is one really fun math miracle.
Easy to use and very clear to see through. Great for all the twist patterns. Got here fast and in great shape.
I've always liked pinwheel quilts, but could never be bothered to make one. That is, until now. This tool makes pinwheels easy.
You piece your quilt using a certain size square (this is detailed in the instructions). Then you line up the cross mark (on the tool) with the seams, and cut around the tool. Turn this cut square to the right (so it's a regular square again), and sew these cut squares together in the same order in which they were cut from the original piecing. (Trust me, the instructions explain this a lot better.)
It couldn't be easier. And it's done without a staggering amount of waste - you're left with squares you can save for your next quilt.
2. In the pop-up window, click on the location on the image below.
3. Choose your bank country.
4. Now you can use credit cards to pay.
5.Last Tip:
Do you want to use this credit card to create a PayPal account?
According to your needs, choose yes or no.

6.Successful payment.