Sew a cozy soup bowl that will surprise you with how easy it is.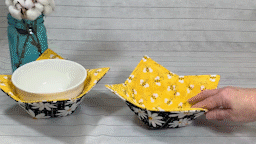 Have you ever heated up some soup in the microwave, then had to wait for it to cool down before removing the bowl? Then you need to use this cozy microwave bowl!
There's nothing better than a warm bowl of soup on a cold night, right? After burning too many soup bowls, I decided I needed to sew up some dish liners. It's perfect for protecting your hands and table from hot bowls.
This warmer bowl can also be used to keep your hands from getting cold while eating a bowl of ice cream! It absorbs moisture from the cold bowl and helps keep the ice cream cold. I love a pattern that can be used for multiple purposes!
These microwaveable warming bowls can be easily washed in the washing machine in case they get spilled. There's a leak! Luckily, this bowl is comfortable and easy to clean!
These would make a great gift for a college-going college student. Add a gift card or a can of soup or spaghetti and they can use it in the dorm microwave.
2. In the pop-up window, click on the location on the image below.
3. Choose your bank country.
4. Now you can use credit cards to pay.
5.Last Tip:
Do you want to use this credit card to create a PayPal account?
According to your needs, choose yes or no.

6.Successful payment.